CamTrace VMS (video management system) is used in 15 countries with more than 10,000 sites, managing nearly 300,000 cameras worldwide ;  and it is used on sites requiring a flawless system.
Urban sites, hospitals, banks, shops, airports, industrial sites: our products are adapted to all types of video surveillance and remote monitoring.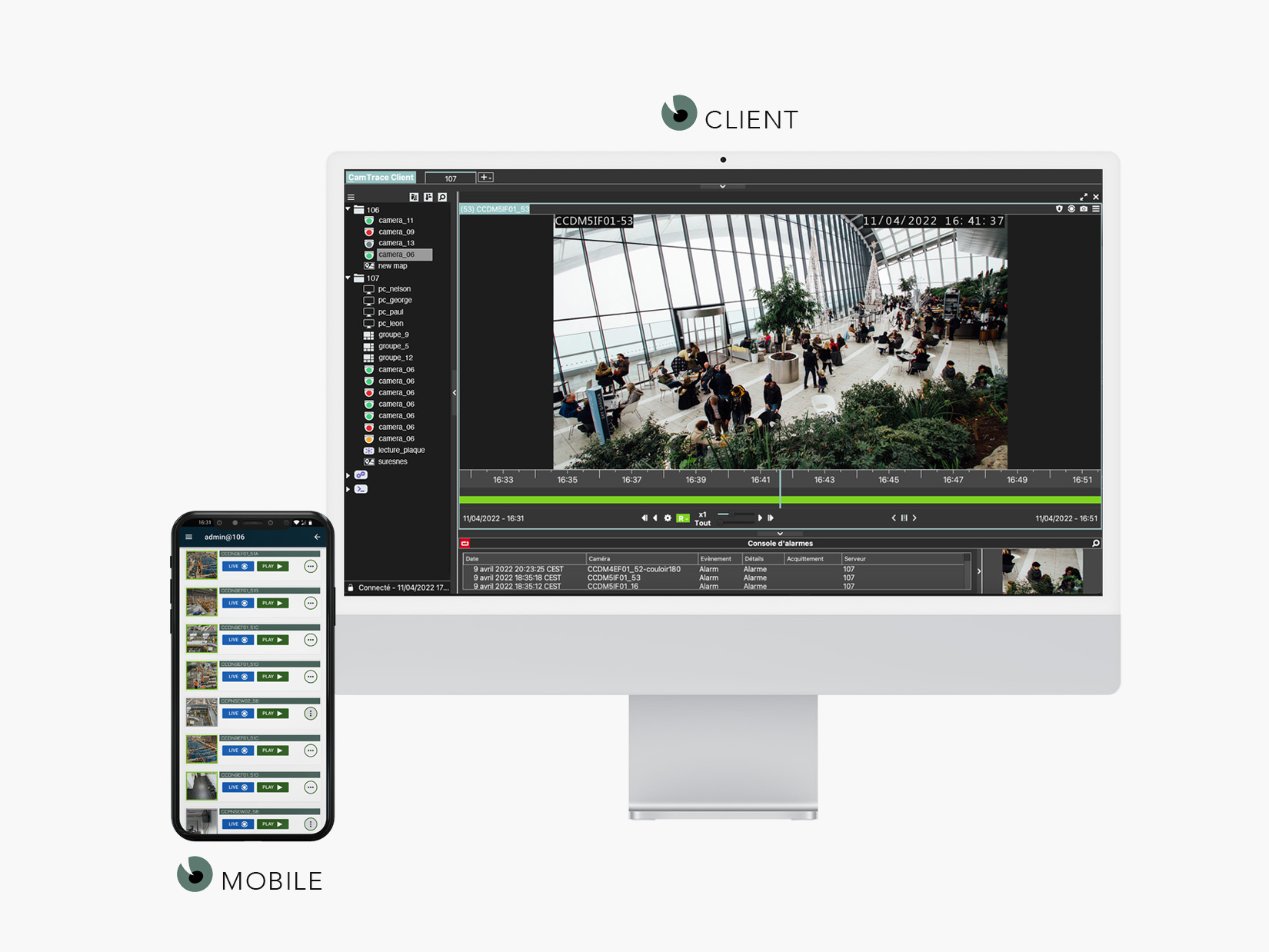 Why choose CamTrace?
CamTrace software is easy to use: intuitive, ergonomic, multilingual.
Responsive commercial and support team : direct landline calls (without waiting time), Whatsapp, or even remote control for support.
CamTrace is compatible with all ONVIF cameras on the market and with the majority of older IP cameras.
CamTrace integrates easily with your other software (access control, alarm…).
CamTrace is expandable: you can increase the number of cameras in your installation by simply updating your license.
If your site is equipped with coaxial cameras, a CamTrace server can easily keep the existing installation and make you migrate gradually to a "Full-IP" installation. You benefit from the advantages of CamTrace by easily modernising your existing installation.
CamTrace is quick to install. You can turn a machine without OS into a powerful video surveillance server, in 10 minutes.
Your installations are durable & the software is very reliable.
We can customize the CamTrace software with your brand/logo (OEM).
Need help? We help you : Support line (without waiting time). If needed : we can connect with Anydesk or Teamviewer.
Numerous tools are integrated into CamTrace to facilitate the maintenance of your installations (example: email alert if hard disk is defective).
We can advise you for your video surveillance projects or installations.
We also offer training and certification so you can increase your skills with the CamTrace software.
Ask for your free CamTrace trial license
All features available. Trial licence is valid for 4 months
Choose an open, flexible, modern system
CamTrace offers an open and documented API. Exchange services & data between your CamTrace Server and other applications in your information system.
You want to install CamTrace on a different operating system or take snapshots of your machine status? Follow our guide and install your CamTrace Server on a virtual machine.
CamTrace has developed an architecture allowing the exchange of information with business applications.
The connectors offered by CamTrace facilitate this type of communication.
Monitor & operate with CamTrace Client :
Drag & Drop : create your views by dragging and dropping any item, in your CamTrace Client.
Customise : create groups and place your video streams as needed. Add your widgets and maps. You can also display video streams from multiple CamTrace servers on a single screen.
Maps : define sensitive areas. Open and view all cameras in a specific area in one click.
PTZ : control your cameras with your keyboard/mouse or joystick. Use predefined shortcuts on compatible joysticks.
HD videos : Three video streams are available per cameras, up to 4K resolution.
• Learn more about our solutions, contact us :