Network cameras or IP cameras connect directly to the network. The transport of the images is completely carried out in IP from the camera to the viewing station. It is therefore possible to benefit from all IP transport techniques to convey images: Ethernet network, hubs, switches, routers, fiber optics, VPN, Wi-Fi radio links, PLC, etc.. The transport and exploitation of images is now part of a universal standard, adopted by the network of networks: Internet.
Unlike analog cameras that are designed for display on a television screen, IP cameras know no limits in terms of resolution. The image has the quality of a digital photo. The intelligence embedded in the cameras allows them to perform analysis and transmission in IP.
CamTrace is an IP video surveillance server. CamTrace allows to increase the possibilities offered by network cameras by adding functionalities of relay and storage of videos, isolation and access security between the cameras and the company network. CamTrace allows the simultaneous management of several brands and models of IP cameras.
CamTrace preserves an architecture entirely based on web standards. All the administration menus of CamTrace remain accessible from workstations equipped with a simple browser. The interface of CamTrace is therefore the same whether you consult it internally or from the outside. In addition, CamTrace offers a dedicated client software (Linux, Macintosh and Windows compatible) as well as a mobile application.
CamTrace allows you to interact with access control, openings, lighting, time and attendance management, alerts, industrial processes, etc…
Example of a network architecture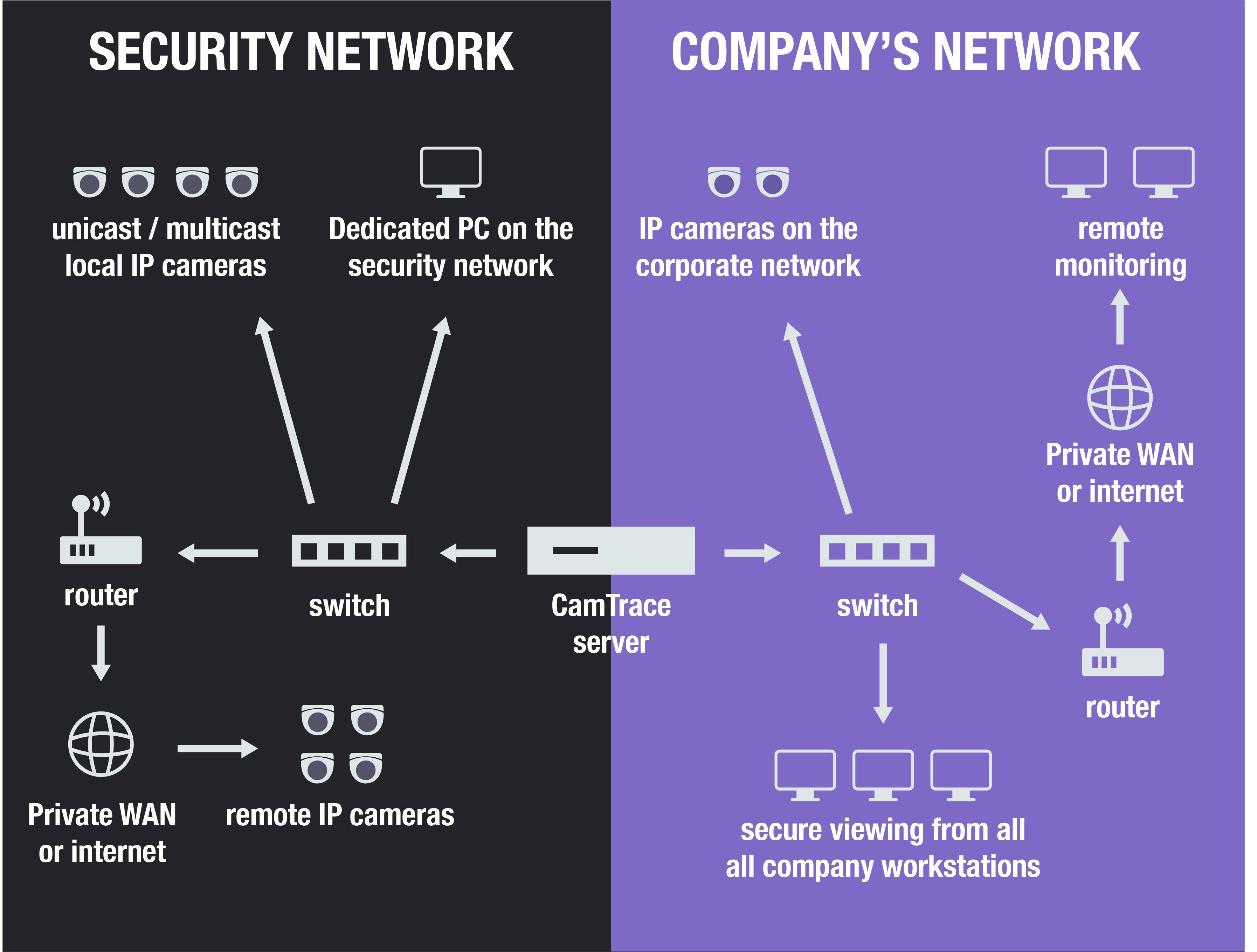 The processors inside the IP cameras quickly reach their limits if multiple users connect and request video streams. The fluidity of images decreases with the number of connections.
CamTrace allows duplicating video streams as needed. These streams can be recovered in Unicast or Multicast.
IP cameras can simultaneously transmit streams of different quality and CamTrace will use them intelligently, for example a Full HD stream for recording, a 4CIF stream for tiled display, a 2CIF stream for mobile applications …
CamTrace supports the majority of video encodings on the market, MJPEG, MPG4, H264, H264+.
CamTrace allows to record several quality of stream according to the needs for example a Full HD stream for a local visualization on the site of the recorder and a 4CIF stream for a better fluidity at the time of a remote access.
CamTrace allows to completely remove the routing between the two networks in order to prevent possible attacks or intrusions on the cameras from the corporate network or vice versa. Only the video application is able to make the link between the two networks (video proxy).
CamTrace's operating system (Linux) guarantees a high level of defence against viruses and prevent unwanted updates, and an exclusive feature of CamTrace allows the video administrator to access the camera menus even if the route is cut between the two networks. This makes it possible for an administrator to set up, configure or reboot a camera remotely without having a route to the camera.
CamTrace uses a web interface for the administration part.
CamTrace respects the way network cameras work by providing a single interface to all users. Updates are extremely simple. Just update the server(s), without having to intervene on the client workstations and without worrying about version matching between the client workstations and the server. CamTrace can be used indifferently from Windows, MacOS or Linux.
The CamTrace application is fully multi-tasking, multi-user and windowed. It is possible to open simultaneously windows of different nature and to arrange them as you wish on your screen. You can call up individual views, mosaics, cycles, plans, administration menus, or several replay (Player) views. A single client workstation can access several CamTrace simultaneously. The operator can store several window layouts on the desktop and reload them.
In addition to a sophisticated video application, CamTrace provides a range of system tools that constitute a unique offering on the market.
CamTrace is supplied on CD or USB stick.
These two devices are bootable and allow to install the whole set consisting of the operating system (Linux), the relational database (PostgreSQL), the web server (Apache) and the video application itself, in only twelve minutes. Each CamTrace USB key is bootable and contains a complete CamTrace system, usable in "live" mode, and ready to be installed.
In addition to their installation function, the boot devices can be used to repair damaged files, reset lost passwords, or perform a system update.
The use of a Relational Database Management System allows to launch powerful tools to check the integrity of indexes and data. It is thus possible to detect data that is no longer indexed or indexes that point to non-existent data and make repairs very simply.
CamTrace updates can be performed via the web from a client workstation. The update files can also be deposited on the server by downloading or from a CD or USB key. In all cases, an update can be done remotely without going on site.
CamTrace supports all keyboards using western characters.

All time information is stored in universal time in the CamTrace database. The location data by continent and country allows to view the data with reference to local time, regardless of the location of the CamTrace server in the world. Daylight saving time is managed for all countries. Several users located in different time zones can query CamTrace using their local time.

The CamTrace admin interface is translated into five languages (German, English, French, Italian and Dutch). It is possible to translate CamTrace into any language using Western characters from simple text files. CamTrace "speaks" several languages simultaneously. Each user chooses the language of their menus independently of the others.
Display on passive screens – Screen Walls
Any client workstation connected to CamTrace can be configured in passive screen mode, ready to receive and display video streams. The passive screen mode can be launched automatically when the PC starts up, which allows to set up a display station without keyboard or mouse. A passive screen can display a camera, a mosaic or a cycle in native or full screen size. An authorized operator can change this display at will from any authorized client workstation on the network. This function allows to recreate the notion of virtual matrix specific to analog video surveillance.
CamTrace allows you to manage several disk volumes for storing images. It is possible to assign cameras to a volume, declare new volumes and attach cameras to them. It is also possible to use external RAID disk bays.
Hierarchical Architecture
In addition to collecting streams from IP cameras, CamTrace is able to capture image streams from another CamTrace. It is therefore possible to create a hierarchical architecture in which a central CamTrace collects its flows from several remote CamTrace. This type of organization allows you to benefit from a single interface for viewing and accessing the cameras without having to connect to each of the remote CamTrace. It also allows local recording to be doubled by centralized recording.
Cluster architecture – Unified interface (option)
CamTrace's cluster interface allows another type of distributed organization. Each client workstation can, by connecting to a CamTrace equipped with the cluster option, "see" the cameras attached to this CamTrace as well as the cameras attached to the other CamTraces of the network. This provides a single user interface, regardless of the number of CamTrace on the network. It is possible to create mosaics, cycles and shots that use cameras attached to different CamTrace.
Cluster architecture